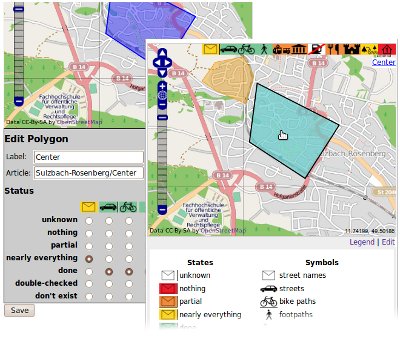 MappingStatus
MappingStatus is a MediaWiki extension for Openstreetmap. With it being installed, you can use the <mappingstatus> tag to add Openstreetmap maps on wiki pages. An editing GUI is integrated.
To help organizing mapping, users can mark areas on the map and declare how well that region is mapped already.
Download
mappingstatus.zip
LICENSE
Demo
License
This program is free software: you can redistribute it and/or modify it under the terms of the GNU General Public License as published by the Free Software Foundation, either version 3 of the License, or (at your option) any later version.
This program is distributed in the hope that it will be useful, but WITHOUT ANY WARRANTY; without even the implied warranty of MERCHANTABILITY or FITNESS FOR A PARTICULAR PURPOSE. See the GNU General Public License for more details.
Installation
download mappingstatus.zip
unzip it
upload the 'mappingstatus' folder into the 'extensions' folder of your mediawiki installation
add require_once("extensions/mappingstatus/MappingStatus.php"); to LocalSettings.php
See also